SEO 2022: The Guide to Search Engine Optimization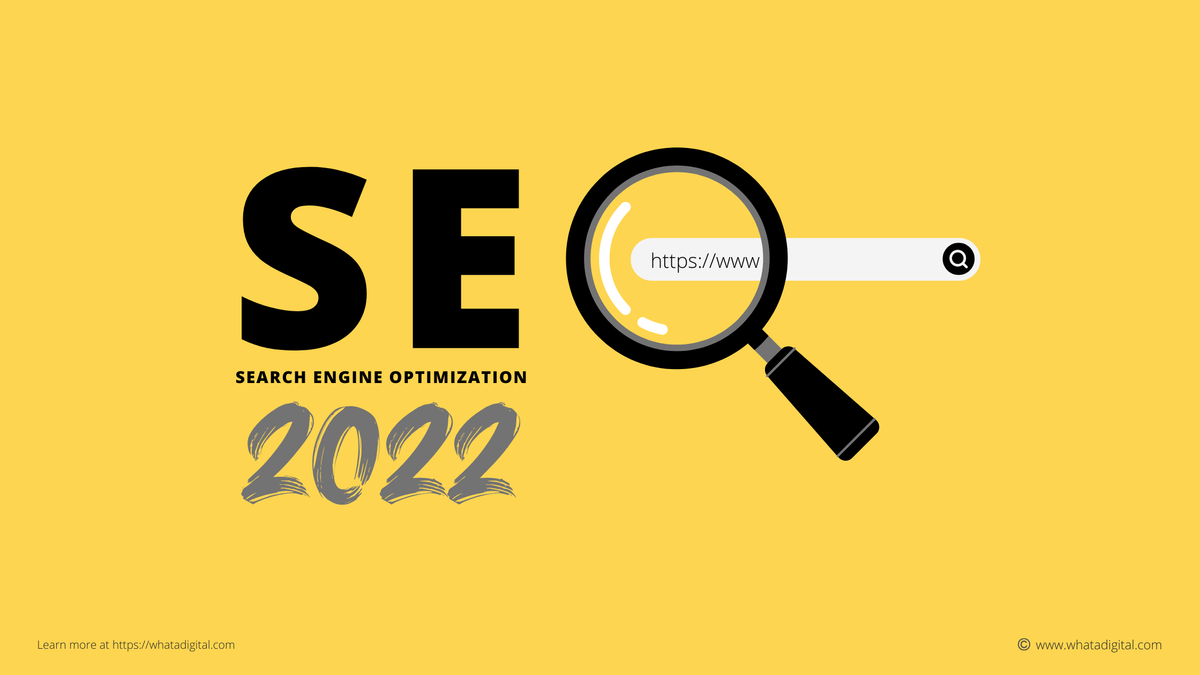 What Is SEO
SEO stands for search engine optimization, which is a set of practices designed to improve the appearance and positioning of web pages in organic search results; because organic search is the most well-famous way for people to discover and access online content, a good SEO strategy is essential for enhancing the quality and quantity of traffic to your website.
Website visibility is commonly measured by the placement or ranking of the site on search engine results pages (SERPs). Companies always compete for the first page, where they are most likely to garner the most attention.
Organic search traffic is usually higher-quality traffic because users actively explore a specific topic, product, or service for which a site might rank. If a user finds that site through the search engine, it can lead to better brand engagement.
How Do Search Engines Work?
Search engines are an essential part of our daily lives
Let us now understand how do these search engines work.
Basically, all search engines go through three stages:
Crawling : This stage involves scanning the sites and obtaining information about everything that is contained there: page title, keywords, layout, and pages that it links to – at a bare minimum.
This task is performed by special software robots called "spiders" or "crawlers"
These robots usually begin with the most heavily used servers and popular web pages.The link structure is essential to determine the route that these "crawlers" follow.The new links are followed next to find many interconnected documents, also revisiting the previous sites to check for newly made changes. A never-ending process.
Sometimes the "crawlers" give up if the actual content is hidden many clicks away from the homepage.
Indexing : Indexing is where processed information from crawled pages is added to a big database called the search index. This is a digital library of trillions of web pages from Google's search results.
That's an important point. When you type a query into a search engine, you're not directly searching the internet for matching results. You're searching a search engine's index of web pages. If a web page isn't in the search index, search engine users won't find it. That's why getting your website indexed in major search engines like Google and Bing is so important.
Serving : The third and final step in the process is for search engines to choose which pages to show in the SERPS and in what order when someone types a question.
This is achieved through the use of search engine ranking algorithms.
In simple terms, these are pieces of software with several rules that analyze what the user is looking for and what information to return.
These rules and decisions are made based on the information available in their index.
Google Algorithm
Google's algorithms are a complex system used to retrieve data from its search index and immediately deliver the best possible results for a query. The search engine uses a combination of algorithms and numerous ranking factors to deliver webpages ranked by relevance on its search engine results pages (SERPs).
Google's algorithms have three major factors, which are given below:
Intent : Within Google's search algorithm, understanding and explaining the meaning and intent of the search query is the key first step. The mechanisms that enable this are, again, a secret, but we know that it allows the search engine to understand:
Relevance : Secondly, the search engine has to find what pages are relevant to the search query. In other words – to find the pages that respond to the user's search query in the best way possible.
It does so by regular crawling and indexing all the websites on the internet and exploring their content.
Keywords play a key role. If the search query and phrases related to the search query appear on the page, there's a high chance the page is relevant to the user.
Quality : There are likely millions of pages for each search query, so Google has to prioritize the ones that offer quality content and demonstrate:
Expertise
Authoritativeness
Trustworthiness
One of the key elements is the so-called PageRank algorithm that takes into account the quality and quantity of links pointing to a page.
Google Penalties
A Google penalty is a punishment against a website whose content conflicts with the marketing practices enforced by Google. This penalty can come from an update to Google's ranking algorithm or a manual review that suggests a web page used "black hat" SEO tactics.
This penalty results in a dramatic drop in rankings and organic traffic loss. It's worth mentioning the negative effect of Google's algorithm updates must not be mistaken for a penalty. Google does not use the term "penalties" in its documentation. Rather, it calls them manual actions and algorithmic actions.
If your organic rankings and traffic suddenly drop while your website has no downtimes or technical SEO issues, you may be facing one of two things:
Your website was reviewed by a human and got manual action.
A Google update resulted in an algorithmic action demoting your website.
Why Is SEO Important?
Whether you're an in-house marketer, a consultant, or an executive, SEO is important for businesses.
If you have a website, blog, or online store, SEO can help you get free targeted traffic from search engines.
SEO is important because:
Organic Search is Most Often the Primary Source of Website Traffic
Most search engine users (more than 70% – see graph below) are likelier to click on one of the top 5 search engine results pages (SERPS) suggestions. To take advantage of this and gain visitors to your website or customers to your online store, your website needs to appear in one of the top positions.
The better your SEO score is, the higher you'll appear on search engines like Google and Bing. While ranking higher on Google is appealing to all brands because of increased visibility, a secondhand benefit is a faith you gain with potential customers. Users tend to defer to the recommendations that a search engine generates, so having a higher position for the keywords a user is searching for will, in turn, solidify your product or service as trustworthy in the user's mind.
There's no doubt that SEO is key to developing your brand. As we mentioned above, the higher you rank on a search engine for various high-volume keywords, the more organic (aka non-paid) web traffic your site will receive. It's as simple as that.
A website that is well-optimized is more likely to gain more customers and make more sales. People are also more likely to share your brand across social platforms like Facebook or Instagram once they've found your website through a search engine.
How Does SEO Work
SEO works by making specific changes to your website design and content that make your site more eye catchy to a search engine.
You do this in hopes that the search engine will show your website as the highest result on the search engine results page.
As we just mentioned, Google's algorithm looks at hundreds of ranking factors when selecting which websites to present in the search results and in what order.
It's impossible to change your website to account for every single one, but there are several best practices you can follow to.
For businesses that are just starting to build their website, create their product pages, or going through a website redesign
When you understand how SEO works, you can use tactics like keyword research, content creation, and page speed optimization to increase your visibility (or how high you rank) in search results.
On-Page SEO
On-page SEO (also known as on-site SEO) refers to the practice of optimizing web pages to improve a website's search engine rankings and gain organic traffic.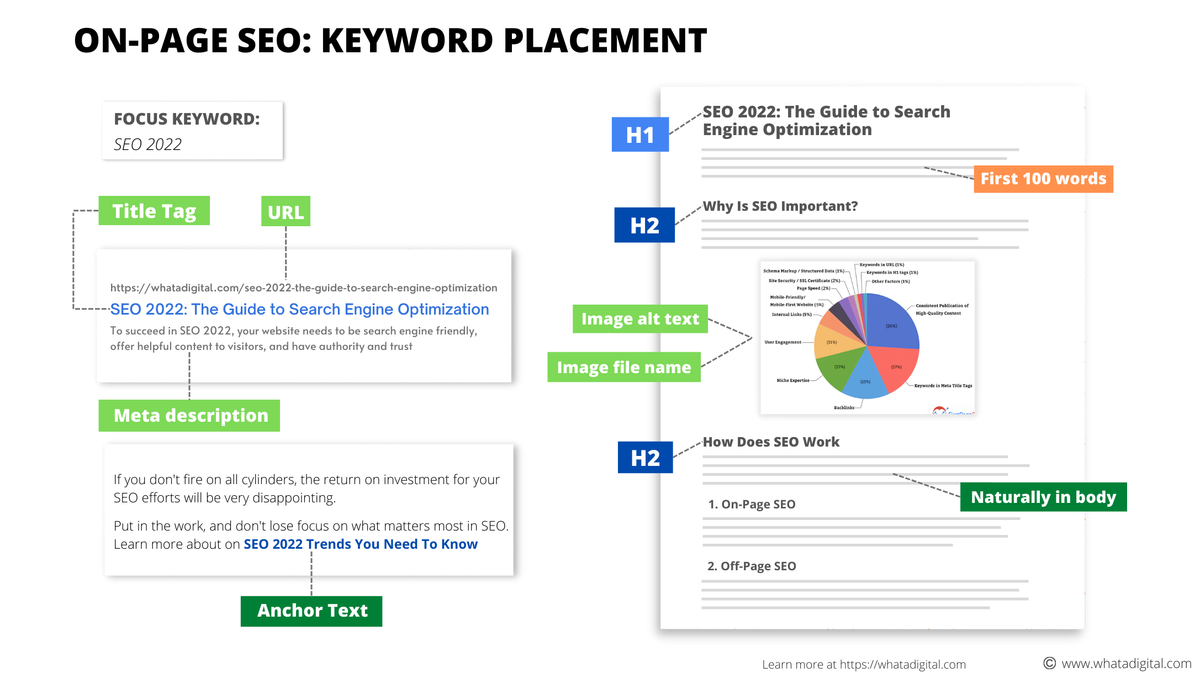 On-page SEO can be broadly divided into four categories: content, Keywords, Page speed, and Internal linking.
Keywords: The most basic method to tell them your website's content answers a user's question is in your language.
Pages that feature the keywords used in a query, whether in the body, headings, or both, are more likely to be relevant to the search.
Sometimes this is easy to determine. If you're optimizing the website of a furniture store, you're probably going to want to include keywords like [sofa], [dining room set], and [end table].
If it's a specialized furniture store, you'll want to make sure you include long-tail keywords like [contemporary art-deco sideboards].
In short, you need to know what your target customers are searching for and create content that includes these terms. Doing research is always a good idea, so you're not missing any opportunities.
Content Creation: Google likes to show users high-quality content that meets their search intent. In other words, it solves a searcher's problem completely and efficiently.
At a high level, there are four types of search intent:
Informational: Searchers are looking for information.
Navigational: Users want to visit a specific website or page.
Commercial: Searchers want to compare products or services before they make an investment.
Transactional: Users actively want to buy something.
A simple method to figure out the intent behind a particular keyword is to look at the first page of results for the query. Titles that include words like how, ways, or methods indicate informational search intent.
Next, you need to craft content that fulfills the intent.
If it's informational, provide as much relevant content as possible. Thoroughly cover the subject, answer common questions, and help the user understand the issue.
If the intent is commercial, provide searchers with the information they need to make an informed purchasing decision. This could include reviews, pricing, comparisons, photos, FAQ, etc.
If the intent is transactional, ensure your pages are optimized with structured data so products can appear in the Google Shopping carousel. Also, you may want to highlight specific selling points in your page title, such as discounts, product quality, wide selection, etc.
Although readability isn't a direct ranking factor, it should still be part of your on-page SEO process. That's because the readable text is easier for Google and users to digest, which ultimately is good for your SEO.
If your text is hard to read, then you might have a high bounce rate, reducing conversions, revenue, and ROI.
Site Speed; A unmanageable, slow-loading site does more than frustrate and drive away visitors – it actually hurts your search ranking too.
Search Engine Journal took a deep dive into the effect a page's loading time has on SEO and confirmed page speed is a ranking factor in search results.
However, what minimum speed your site needs to meet is constantly changing.
It can be satisfied by meeting the minimum threshold of Google's Core Web Vitals. If your site isn't currently meeting these standards, there are several steps you can take, including:
Enabling compression.
Reducing redirects.
Optimizing images.
Leveraging browser caches
Internal linking is essential to on-page SEO because it helps Google understand the relationship between pages on your site. An extensive internal linking framework reinforces context and relevance and your depth of coverage on a topic.
Internal links are also fantastic for user experience. They help people find more of your content, like other blog posts or valuable case studies.
A strong internal linking strategy is also a great way to decrease your bounce rate and enhance other Google Analytics metrics, such as conversion rate and average session duration.
Regarding on-page SEO, you should include internal links to — and from — other relevant pages on your site. It's essential to link out from authoritative pages like your homepage.
Use short, descriptive, keyword-focused anchor text for your internal links. It's also critical to link out from the most relevant sections of your content to other pages that cover the topic.
As a sidebar, don't use keywords you want to rank for in external links to other websites.
Unlike backlinks, internal links don't boost your website's authority because you can add them yourself. Instead, they funnel existing authority and relevancy from your backlinks throughout your website. With this in mind, internal linking can move the needle on rankings if your domain already has massive authority.
Off-Page SEO
Off-page SEO refers to all SEO tactics that don't involve updating or publishing content to your website.
In the past, many used "off-page SEO" and "link building" interchangeably, but in reality, there are many off-page SEO tactics you can use, including:
brand building
citation building
content marketing
social media, and more.
These tactics help both search engines and users better understand your website and raise your site's authority, trust, and relevance.
In our experience, these 11 off-page SEO activities are the easiest to include and offer the best return:
Brand Mentions
Commenting
Forums
Influencer Outreach
Guest Author
Broken Link Building
Social Networking
Social Bookmarking
Content Marketing
Questions & Answers
Newsletters
Site Content
Why is content king? We hear about it all the time. The answer is easy, content is an essential part of your website. If your content is not easy to understand and analyze, then you may easily lose your reader. The content of your website will make or break the experience, no matter how easy to use your website may be.
Meta Titles and Meta Descriptions
Meta Titles and meta descriptions are bits of HTML code in the header of a web page. They help search engines understand the content on a page. A page's title tag and meta description are usually shown whenever that page seems in search engine results.
Well-written and effective meta tags can attract more users to click on your website from the search engine results.
Heading
Use descriptive headings and titles to help users navigate their browser and the page. It's easier to jump between pages and sections of a page if the headings and titles are unique.
Writing Style
Style refers to the way we represent ourselves in writing. While there is no one standard style that every writer must obey, there are two key elements in an effective writing style. One is readability, meaning the use of words, phrases, sentences, and paragraphs in such a way as to communicate facts and ideas clearly. The other is elegance, meaning using appropriate and interesting words, phrases, sentences, and paragraphs to produce graceful, unobtrusive prose that keeps readers' attention and interest. Good style communicates information effectively. It moves the reader along easily from word to word, sentence to sentence, paragraph to paragraph, and one section of the paper to the next. Immoral style is boring and often confusing.
Rich Content
Rich content is media that affect sound, images, and/or video. Its content stands out because of its visual flair and design. It's content that takes advantage of the sensory features of the viewer.
Some examples of rich content are:
Static images.
Animated GIFs.
Videos.
Audio clips.
So, what's the difference between rich content and normal content?
Normal content is usually text-based. Think of text-only social media posts or blogs. Though these formats can inform and even encourage interaction with your brand, there's not much visual flair to them. That's why text-based content is used in conjunction with rich content, creating a combination that's both engaging and informative.
Outbound Link
The links to external sites from your website are called outbound links. Also known as external links, they are directed away from your website – sending traffic externally to another.
You can add such links to supply a reference for facts, studies, or statistics. For instance, providing a link to the original study adds more credibility to your content.
Authorship
remember the author explicitly where appropriate. If they are authoritative, this will bring credibility to the content.
But keep in the sense that your content does not live in isolation. It is vital to see each piece of content as part of an overall, readable content strategy. As soon as you do that, you are thinking about content marketing.
Types of Content
Content is the currency of the internet, and there are hundreds of kinds that brands can focus on creating to engage audiences, reach new target markets, provide value to customers, and entice new opportunities.
But with all the different types of content that are out there, it can be difficult for brands to know which ones to focus on, so today, we're going to go over the top six content types and how you can use them to drive growth:
Lists
List articles may appear somewhat gimmicky, but they're trendy and aren't going anywhere. They're so popular because they're easy to read, scannable, visually appealing, and—when done right—interesting and highly shareable.
How-To Guides
The engine gives you countless suggestions as soon as you type the phrase "how to" into Google's search box. Google itself has found that queries, including the phrase "how to," have grown by 140% over the past fifteen years.
Think about what people need to learn in your field and what kind of informative directions you can provide. If you play your cards right, you can create a how-to guide that goes viral within your industry.
How-to guides can be videos, long-form articles, or infographics. The most important factor is that it is easy to understand, so including lots of visuals is usually a good route to take.
Infographics
Infographics are also one of the most famous types of content marketing. This is because they're a visual content marketing format that can help your audience understand visual data better.
Infographics are usually eye-catching, so anyone who visits their processes and understands the information faster and better. With infographics, you can provide useful information to your target audience. Also, you can educate your leads and customers more effectively.
Video
Video is an extremely successful form of content, and by 2020 it's expected to account for 80 percent of all web traffic. Moreover, 96 percent of consumers find product videos helpful, and nearly 75% are more likely to make a purchase after watching a video.
Any type of video content will help you engage your audiences, increase shares and comments, increase conversions, and drive traffic to your website. You can consider other types of videos: interviews, call-in shows, a behind-the-scenes look at the office, and explainer videos.
Ebooks
Instead of an in-depth blog post-based guide, many content marketers create ebooks. Ebooks could be a good choice if your content drops into one or more of these buckets:
It's exceptionally long
It would create poor UX to make readers scroll endlessly
It contains original research or other differentiators that you can gate in exchange for an email address or even payment
Webinars
Webinars are another form of engaging content that can do wonders to educate customers. These are typically used by B2B organizations – as they grow to be quite factual.
Webinars have proven extremely useful in increasing marketing results, sales, and engagement rates. According to research from ClickMeeting, 76% of B2B buyers have made a purchase after observing a webinar.
Obviously, webinars need to be interesting and relevant to engage your audience.
Technical SEO
Technical SEO ensures that a website meets the technical requirements of modern search engines with the goal of improved organic rankings. Important elements of technical SEO include crawling, indexing, rendering, and website architecture.
Technical SEO doesn't include analytics, keyword research, backlink profile development,or social media strategies.
What Are the Top Priorities for Technical SEO
Mobile-friendliness: One of the major Google algorithm updates was prioritizing mobile-friendly, responsive websites. In what was termed "Mobilegeddon," several top websites were penalized for not adopting a more mobile-friendly web template.
Fast forward to today, having a mobile-friendly website is more important than ever.
Page Speed: Page speed is a vital ranking factor and is the main component of the Page Experience update set to launch in June 2022. SEO experts and webmasters should pay careful attention to site speed. A faster loading site offers a remarkable user experience leading to a higher time spent on the site and more conversions
Site structure: Your site structure is the foundation of all other technical elements. It will influence your URL structure and robots.txt, which allows you to determine which pages search engines can crawl and which to ignore. Many crawling and indexing issues are a result of poorly thought-out website structures. If you can create a clear site structure that both Google and searchers can easily navigate, you won't have crawling and indexing issues later on. In short, simple website structures help you with other technical SEO tasks.
3 Tips for Better Technical SEO
Create and Optimize Your XML Sitemap
Optimize Internal Links
Use Canonical URLs to Avoid Duplicate Content Issues
Website Architecture
Website architecture is the hierarchical structure of your website pages. This structure is reflected through internal linking. Your website's structure should help users easily find details and help search engine crawlers understand the relationship between different pages.
3 Tips for an Organized Website Architecture
Make sure there are minimal items in the top-level menu, and the item name should match the content it shows. For example, when a user clicks on the item name 'blogs,' they must land on a page that contains blog posts – not your products. Users should also be able to go back to the home page from the blog homepage. The navigation should be as simple and straightforward as possible, with no room for ambiguity.
There should be consistency in the design, navigation format, link displays, and so on in your website; using the same elements will make it easy for your visitors to navigate, click on links, reach new pages, and find what they want.
Your Website Pages Should be Accessible With Minimal Clicks
Authority and Trust
Running a successful business is almost impossible without investing in trust and authority. Two common acronyms associated with these measurements are E-A-T. And YMYL.
E-A-T
E-A-T is the shorthand Google uses in its Search Quality Evaluator Guidelines and stands for 'Expertise, Authority and Trust.'For those who don't know, the guidelines are what the people who manually examine pages for Google users.
If you're unknown with how Google trains its algorithm, it uses machine learning to continually tweak the different metrics. It does this 'offline' and uses the manual review to judge the quality of the SERPs compared to what is nowadays live. When there is a big enough improvement, it can then roll that change lives, and we get an update
Authoritativeness This is about the number of citations that an author has, the types of sites they appear on, and generally how well-written their content is. Google also notes that high-quality content "must be factually valid for the topic and must be supported by expert consensus where such consensus exists.".
Trustworthiness: Trust is measured by what authorities they have. Do they appear on other high websites with high levels of E-A-T? How well-written is their content?
Your Money or Your Life (YMYL) pages
Google refers to some pages as "Your Money or Your Life" (YMYL); pages that Google thinks could affect"a person's forthcoming happiness, health, financial stability, or safety" and for which it desires to deliver not only relevant information but also correct information.
According to Google's Search Quality Rating Guidelines, such pages include:
News and Current Events about important topics such as international news, business, politics and science news, etc.;
Civics, Government and Law, which provide information to citizens about voting, government agencies, public institutions, social services, legal issues, etc.;
Finance, which offers financial advice or information regarding investment, taxes, retirement plans, loans, banking, insurance, and especially pages that allow purchases or online money transfer, etc
3 Tips for Building Authority and Trust
Communicate goals, directions, and expectations
Build a reputation as a thought leader and expert in your field
Move forward with a renewed focus on trust and respect
Link Building
Link building is the process of obtaining hyperlinks from other websites to your own. A hyperlink (usually just called a link) is a way for users to navigate between pages on the Internet. Search engines utilize links to crawl the web. They will crawl the links between the particular pages on your website and the links between whole websites.
Within SEO, link building is essential in driving organic traffic through search engines, especially in competitive industries. When combined with strong technical SEO foundations, great on-page SEO, excellent content, and a good user experience, link building can be super effective at driving more organic traffic.
Why Link Building Is Important
Link building is significant because it is a prominent factor in how Google ranks web pages. Google notes that:
"In general, webmasters can enhance the rank of their sites by increasing the number of high-quality sites that link to their pages."
Link building is one of the most important ranking factors for Google, alongside:
Links give you credibility
Google utilizes links to rank your site
Backlinks will get you an increase in web traffic
Link building leads to more elevated site metrics and SEO scores
Greater earnings opportunities and more sales
Help to stand out as an authority voice
because Google confirmed that it would be unnatural to find a website without backlinks.
How to Build Links
Maintain a steady blog with amazing content.
Link to other blogs on your blog.
Write guest blog posts.
Curate and publish helpful resource lists.
Do professional roundups to build relationships.
Write newsjack posts.
Create case studies about your most impressive clients.
Volunteer to be the subject of a case study.
Administer surveys.
Write book reviews.
Conduct free webinars and post archived copies online.
Create free tools.
5 Tips for Creating Engaging Content That Earns Links
You need to evaluate the goals of your content marketing strategy. Ask yourself what you want your audience to do when they consume your content.
Whatever that answer is, your content needs to be engaging if you want to complete those goals. What is engaging content?
We Came up with this resource of the top 5 tips for producing content that engages your audience.
Create pieces using data : The data is the most important aspect of any piece of data-driven content! Web surfers looking for data-driven articles seek beneficial, relevant, or correct information to bring through a certain point or provide useful insights into a specific topic.
Be emotional: When something appeals to us emotionally, we overlook sharing the post. According to Jonah Berger's research, positive posts received more engagement, while negative emotions increased virality. Sad posts, however, decreased it. One study also found that advertising campaigns with purely emotional content performed twice as much as those containing a purely rational message.
Be humorous: One of the fundamental reasons they identified was "To bring valuable and entertaining content to others." Two words here should speak to marketers — valuable and entertaining. When you use humor in your marketing, it's essential to strike a balance between being entertaining and bringing value to your audience. If the only thing they recognize from your marketing is the joke, then your content hasn't done its job effectively. Content that does achieve these two objectives is more likely to be shared and, thus, consumed by even more potential customers.
Focus on collaboration: Working with new people from different areas of your business also opens up channels that would otherwise remain closed. Discovering new ways to communicate and share information is hugely important to the success of any business, which is why collaboration should be used whenever possible to form bonds between departments.
Aim to craft authoritative pieces: Authoritative content is unique content that informs the reader, reveals subject expertise, and provides the right level of depth for the target audience. It's a piece of content that will help the reader answer their question or discover the information they're searching for. It obtains value from the target audience, making it easier to get links.
Local SEO
local SEO is a search engine optimization (SEO) technique that helps your business be more visible in local search results on Google.
Any business that has a physical location or serves a geographic area can benefit from local SEO. If you search Google for any important keywords related to your business and a map with 3 listings appears underneath it (also known as a map pack), then local SEO can help you grow your business.
Content, on-page optimizations, and link building, all with focused, localized intent, are part of these efforts.
Google Business Profile
Google Business Profile is a free business listing from Google. It authorizes you to provide details and photos of your business, including your location, services, and products.
Creating this free profile is a fantastic way to increase your visibility across Google services. Data from your Google Business Profile may appear in Google Search, Google Maps, and Google Shopping.
Google Business Profile is only available to businesses that have contact with customers. This includes businesses with a physical location and businesses that provide services by meeting with clients in other locations.
3 Tips for Improving Your Local SEO
Get Regular Reviews from Happy Customers
Optimize Your Website for Mobile
Create Content Based on Local News Stories or Events
Social Media
If your business ignores social media, you're missing the awesome superpower of social media SEO! That's right, social media can improve your SEO efforts.
Social media SEO, or social SEO, combines social media and SEO strategies to improve your search rank, website traffic, and, hopefully, your conversions.
SEO is about optimizing your website so that it turns up in searches done by people seeking your product or service and attracting them to visit your website. Social media does the same thing – it gets your name and content in front of people interested in your offering.
3 Tips for Leverage Social Media in SEO
If you take full advantage of social media to boost your top-quality content, you want to remember that engagement matters for SEO.Engagement helps to enhance your online reputation and make connections and generate leads for your business. Content that gets lots of engagement on social media platforms will rank for the topics they cover.
Tracking brand awareness is important to enhancing SEO rankings. You can channel your marketing effort suitably by determining how much your target audience understands what your brand does and what it stands for. You will strategically get your target audience and offer the right message, increasing website traffic. Measuring brand awareness gives insight into those who know your desire.
You probably already know that backlinks are a crucial SEO factor. One of the methods to get other websites to link back to your website is to create content that gets shared and spoken about. The more people share your content, the higher the chances someone will find it relevant and link to it. You can boost posts on social media that are linked to your website and encourage your followers to share this content. This can lead to more backlinks and, of course, more traffic to your website.
F.A.Q.
How Fast Does SEO Work?
6 to 12 months
Unlike other popular marketing channels, SEO does not work immediately . Most experts expect to see results in as low as 2 months, but SEO can take as much as 12 months to work. While every company's SEO strategy differs, most businesses can hope to see significant results in 6 to 12 months.
What Are Google's Most Important Ranking Factors?
On-page ranking factors refer to the quality of the content on the page and the keywords its targets.
Off-page ranking factors are like approvals from other pages on your site or other websites, and largely involve backlinks.
Technical ranking factors calculate your site's ability to crawl, index, and fast render content and safely for searchers.
Local ranking factors involve all three of the above, with a special focus on reviews, reputation, and listings.
There isn't one single ranking factor that will make or break your SEO. It's the mixture of all your technical, on-page, and off-page efforts that work together to help you rank higher on Google, get more traffic, and build trust.
What Are Some Examples of SEO?
Long-tail keyword integration
Compelling title tag and meta description
Fast page speed Working on technical SEO elements to improve page speed
And much more
Does my business need SEO?
We're sure you've heard of Search Engine Optimization,or SEO. But you may still be doubtful of what SEO is exactly, why SEO is essential for your business, and how to get started implementing it. Content marketing and having a technique to help you rank nicely on search engines are becoming a main elements of a successful digital marketing plan. More and more consumers are searching for information online and favoring useful, informative content over more direct advertising.
Therefore, understanding and implementing SEO is necessary for your business to stay competitive, visible, and relevant
Should I Do SEO, Run PPC Ads, or Both?
Both channels are required for a successful online marketing push. SEO and PPC should work together because they are both necessary parts of an online campaign. There is no situation where organic rankings will eventually make PPC obsolete, saving the brand in question numerous ad spend.
Why Isn't My Website Ranking on Google?
In the extensive majority of cases, a website not ranking in Google means that you need to invest in search engine optimization (SEO)
Why Has My Organic Traffic Dropped?
The most common reason of a sudden drop in website traffic is a recent search algorithm update. Penalties, redirects, incorrect robots.txt rules and ranking failures are all other honest reasons why you may see a drop in website traffic.
Does Social Media Help to increase my website rank?
Social media isn't a ranking factor, so it won't instantly help your rankings. While there's no direct ranking correlation between the two, the benefits of social media do feed into SEO.
And if you're trying to enhance your SEO, it is especially important for you to invest in social.
What Is The Difference Between On-Page SEO and Technical SEO?
On-page SEO focuses on the optimization efforts available on your website. Instead of on-page as technical SEO vs. on-page SEO, think of technical SEO as a subset of on-page SEO. On-page SEO should start with technical improvements and then move on to content and other SEO strategies to improve your E-A-T (expertise, authority, trustworthiness) characteristics.
Technical SEO works to optimize the technical elements of your website. These technical elements include site speed, mobile friendliness, structure, etc.
What PageSpeed Score Should I Aim For?
A score of 90 or above is considered good. 50 to 90 is a score that needs improvement, and below 50 is considered poor.
How Can I Find Technical SEO Errors?
Site Isn't Indexed Correctly
Missing or Incorrect Robots.txt
Meta Robots NOINDEX Set
Multiple Versions of the Homepage
Incorrect Rel=Canonical
Duplicate Content
Missing Alt Tags
Not Enough Use of Structured Data
How Long Should a Page of Content Be?
The general law of thumb for content length and density ranges considerably, from a minimum of 200 to maximum of 1,000 words per page, depending on the topic complexity and purposes. The main goal of website content is getting your message across effectively and attract your reader to take action, while being concise.
How Do I Create SEO-Friendly Content?
In order to help you reach your content ranking better in search engines, check out this set of SEO tips:
Carry out a keyword research
Structure your content
Write catchy titles
Write SEO-friendly URLs
Use small paragraphs
Optimize meta description
And, much more.
Does Duplicate Content Harm Your Website's Rankings?
Google does not issue a duplicate content penalty. At least, not directly.
If you have duplicate content on your website, Google uses that as a alert. It seems that similar(or near-identical content) is a sign that your site doesn't have much to offer users regarding original and valuable content.
For your website, that results in lower rankings, which affects your site traffic and earnings.
What Is PageRank?
PageRank is an algorithm utilized by the Google search engine to calculate the authority of a webpage. While the details of PageRank are proprietary, it is believed that the number and importance of inbound links to that page are significant factors.
How Do I Analyze My Competitor's Link Profile?
5 Backlink Analysis Tools That'll Help You Understand Your Competitor's Link Profile:
Ubersuggest
Ahrefs
Kerboo
Majestic SEO
SEO PowerSuite
Conclusion
To succeed in SEO, your website needs to be search engine friendly, offer helpful content to visitors, and have authority and trust. You need to work on all three aspects, and for example, having great content but no links pointing to it won't cut it. If you don't fire on all cylinders, the return on investment for your SEO efforts will be very disappointing.
Put in the work, and don't lose focus on what matters most in SEO.
---
Aijaz Alam is a highly experienced digital marketing professional with over 10 years in the field. He is recognized as an author, trainer, and consultant, bringing a wealth of expertise to his work. Throughout his career, Aijaz has worked with companies such as Arena Animation and Sportsmatik.com. He previously operated a successful digital marketing website, Whatadigital.com, where he served an impressive roster of Fortune 250 companies. Currently, Aijaz is the proud founder and CEO of Digitaltreed.com.
About us and this blog
We are a digital marketing company with a focus on helping our customers achieve great results across several key areas.
Request a free quote
We offer professional SEO services that help websites increase their organic search score drastically in order to compete for the highest rankings even when it comes to highly competitive keywords.
Subscribe to our newsletter!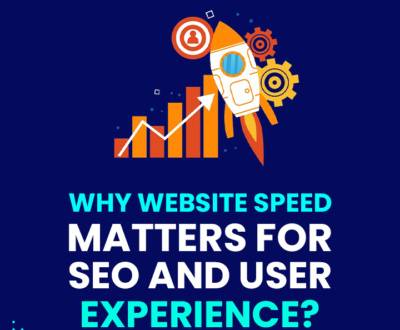 In today's fast-paced world, the Speed of websites has become an important…